The Future of E-commerce is Social
Why social media, discovery platforms, video and live streaming is disrupting the e-commerce industry.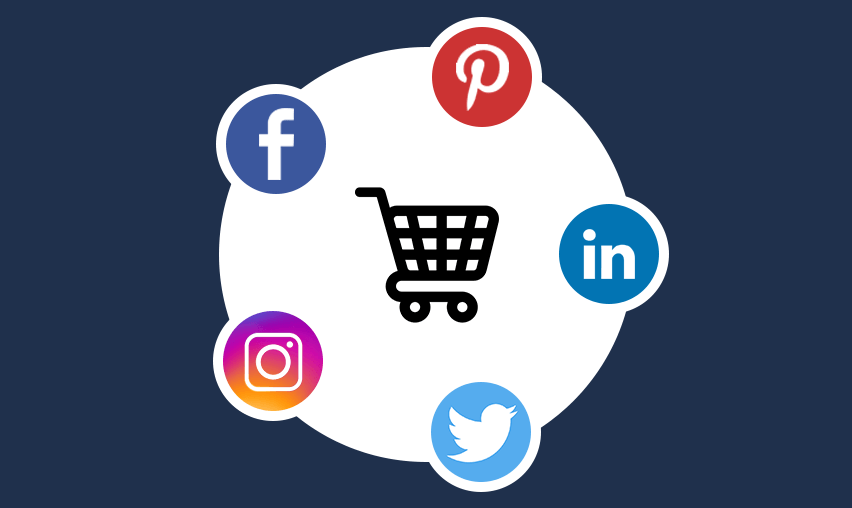 In the U.S. and Europe almost all e-commerce is "search"-based, to consciously have an idea of what you want to buy and to use a search platform like Google or Amazon to find the right product.
In China on the other hand, most e-commerce is "discovery"-based. Discovery-based e-commerce revolves around spontaneously stumbling onto what you want to buy, either through a (social media) feed or an in-app recommendation. You "discover" what you want to buy while doing something else, like watching a video, and through an in-app integration you can immediately hit "buy" to satisfy your cravings. Discovery leads to a more impulse driven and frictionless commerce experience.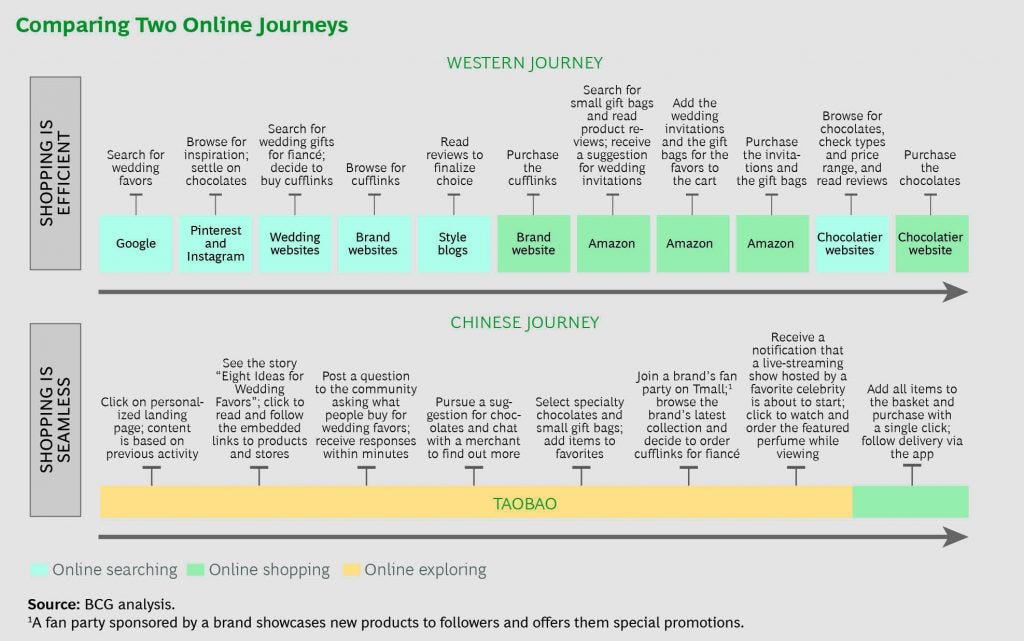 Discovery Platforms
China is a "Mobile First" country meaning that users prefer using mobile to desktop. Like other emerging markets, Chinese citizens turned to mobile in the 2010's due to the cheaper network costs and low device prices. As a result, the smartphone became the primary device for Chinese consumers to access the internet and that impacted how consumers in China communicate and consume.
It turns out that mobile users have very different preferences to desktop users. Having content be delivered instead of having to search for what you want to read or watch is strongly preferred. This is something Chinese companies know and is why they built their applications to be mobile native, designed to mainly or only be used on mobile with functionalities that are mobile specific.
Today, the west is becoming a more mobile dominated economy and a growing number of users prefer mobile to desktop. With this change, western platforms and applications that want to succeed will need to capture the needs of mobile first users: Having content delivered. Something that social media exceeds at.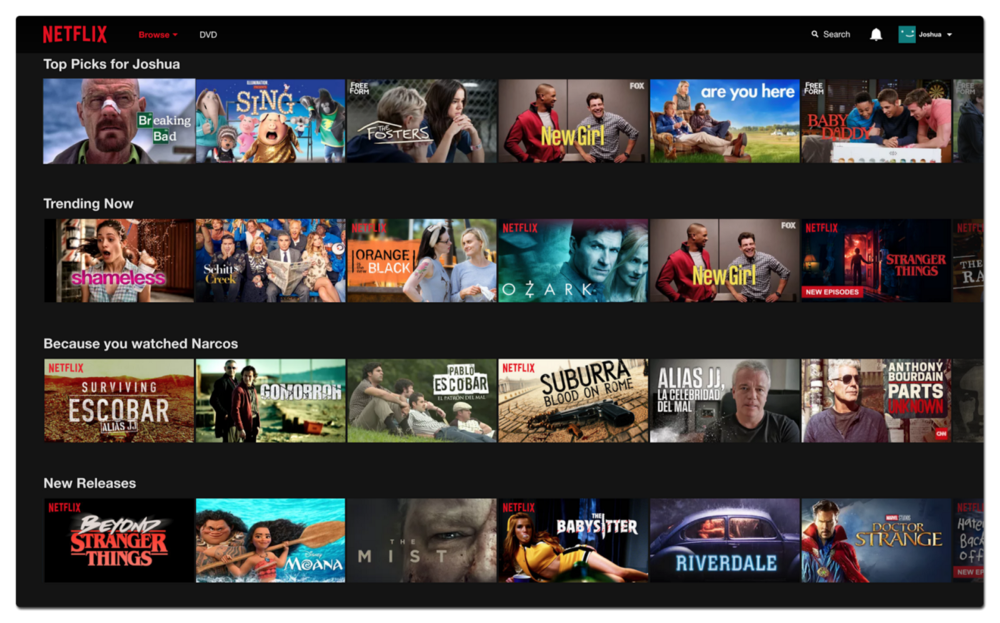 Social media combines mobile with a feed (the delivery aspect) better than any other platform. Social media providing entertainment and content to it's users is now the norm. But social media doesn't only provide it's users with what they want to see, it also provides users with what they want to buy.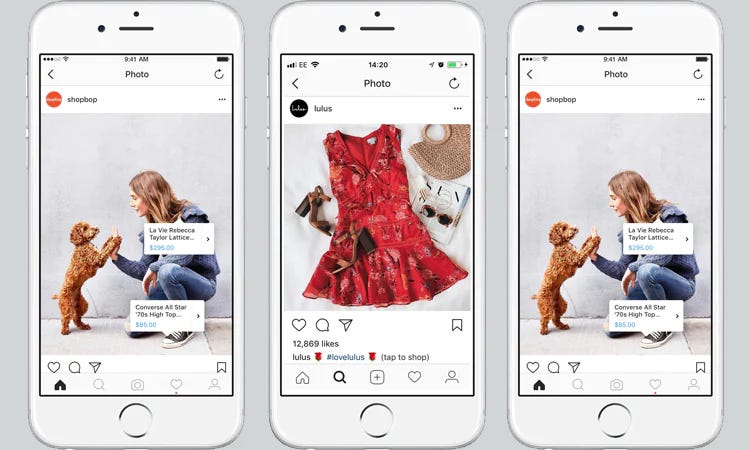 Over 80% of Instagram's users say that they have found products that they want to buy through the app. And this is something western companies are capitalising on. Instagram, Facebook, YouTube and Pinterest are all expanding their functionalities and platforms toward e-commerce.
Discovery platforms use algorithms to get to know what you like and and show you content that you want to see. Using machine learning, the algorithm will improve and get to know you better based on how you interact with the content it provides you. If you are looking at pictures from the Paris Fashion Week, you will most likely enjoy more fashion related pictures being shown to you in your feed. When you are shown more fashion content, odds are that you see items that you also want to buy. With e-commerce integration, social media provides that opportunity.
This is the greatness of discovery platforms: They are great at blurring the lines between commerce and entertainment.
Short video
In general, humans tend to prefer video to photos and text. Dynamic content to static content. This is especially true on mobile which is why video has become increasingly popular for e-commerce in "mobile first" economies. And there is one form of video which is becoming increasingly popular: 15 to 60 second long videos, called "short video".
The reason why short video proliferates is because it is a media form which is incredibly easy to create while also being very palatable to consume (Note: See my past newsletter on TikTok for a more thorough introduction). Combine this with a discovery platform and you can reach an audience which has not previously been possible.
Chinese companies are jumping on the short video trend. Turns out that short videos are a very effective way of advertising your product! Producers are now able to reach a larger audience than ever before through a medium which is incredibly easy and cheap to create. Instead of telling your customers how good your products are, now you can show them!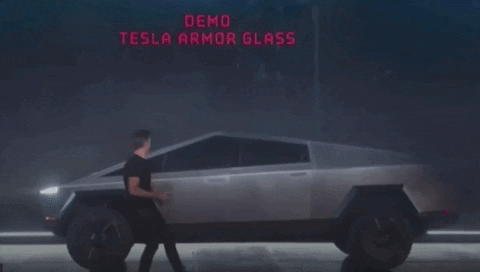 Combine this with a frictionless shopping experience and you get a deadly combination for online shopping. On Douyin (the Chinese version of TikTok), the purchasing process is a mere 3 clicks in-app enabled by integrations with Taobao (China's largest e-commerce platform) and Douyin's own commerce solution.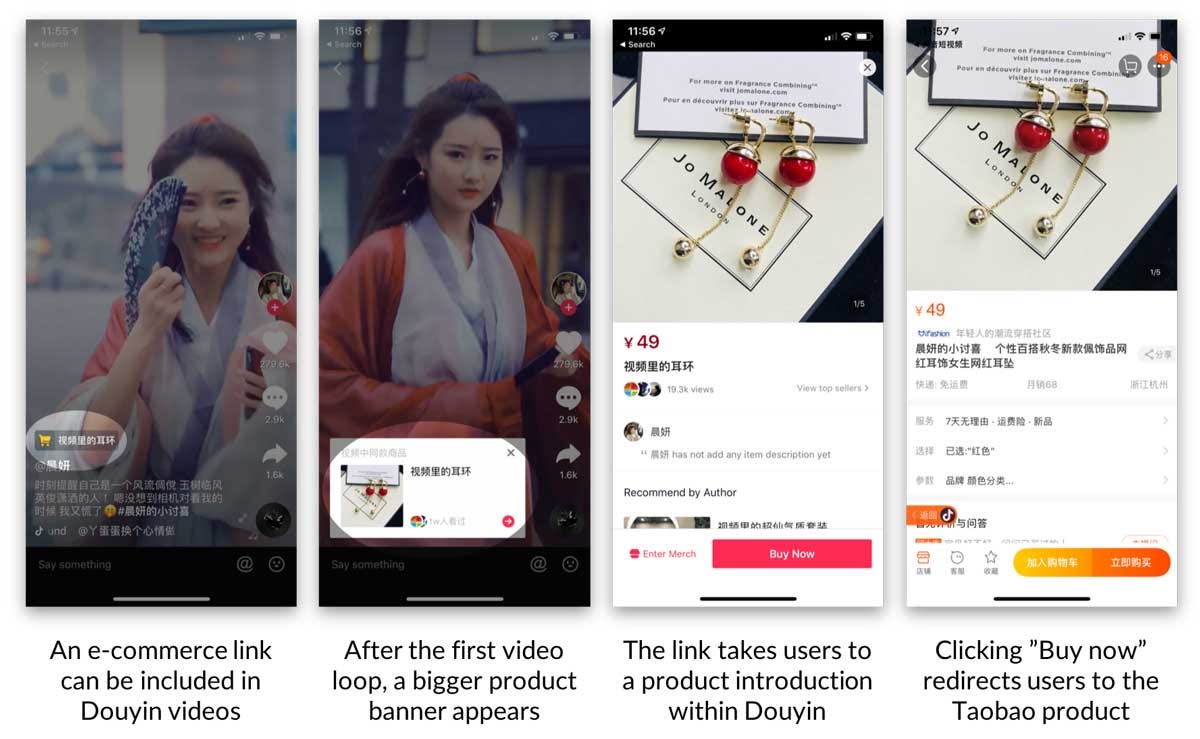 Chinese shoppers looking for a new outfit do not want to scroll through pages of static images to find what they are looking for, they want a show! They want to see a real life model try on several outfits in quick succession, with the possibility to buy each outfit.
On Douyin this is status quo and models can show off 5-10 outfits in a 15 second video which means a lot more entertainment for the shopper than just scrolling through pages of still images.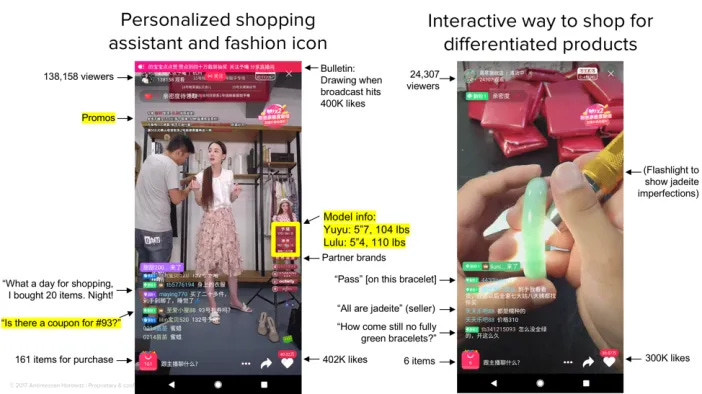 Small companies and producers also leverage short video in their favour to reach consumers directly. On Douyin, entrepreneurs, from farmers to craftsmen, use short video to show how a product is made or where a product comes from. For fruit farmers it is very popular to show off the rareness or the juiciness of a fruit, getting consumers to jump on the buy button satisfying their impulse for a sweet and delicious fruit.
In the west, unboxing videos are very popular, but is usually reserved for big ticket items like laptops and other electronics, but in China it is used for all types of items. A short unboxing video makes even the most tame of products, like boring kitchen appliances, seem a lot more interesting to potential buyers.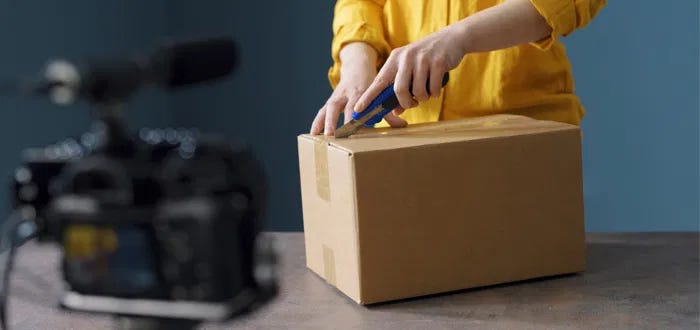 Tutorials are also a common way to sell products because rather than showing off the product, producers can show the value the product provides. A video is much better at purveying what you can learn from a Photography 101 book than a short description of the book's content.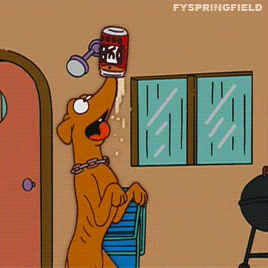 Short videos not only allow for promotion of products, but also for places and attractions. When users film experiences and upload them to a platform, a library of content is provided to users which can be used similarly to TripAdvisor to plan new, exciting experiences. Companies can supplement with their own videos and information to attract more guests.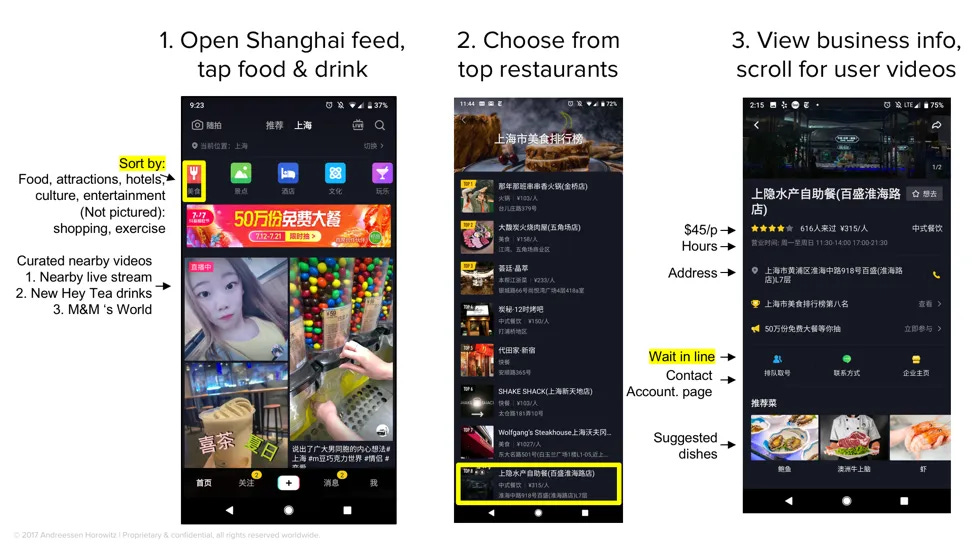 Discovery platforms like Douyin attract users by being extremely entertaining and the combination of discovery and short video proves to be one of the only media forms to blur the lines between entertainment and advertising (compare this with pure discovery platforms which are great at blurring the lines between commerce and entertainment).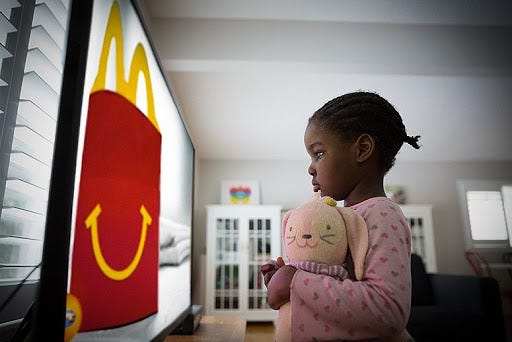 Chipotle's "Lid Flip Challenge" marketing campaign garnered over 250 million views when TikTok's users started making their own videos to take on the challenge. By being a discovery platform, these videos were shown to a wide audience allowing for an organic virality that is impossible for non-discovery platforms.
Advertisers in China are now putting short video apps as their highest priority in their marketing strategy due to their effectiveness and high return on investment. In 2019 the online ad market for short video grew by 43% compared to 18% for the online ad market as a whole. This will continue to grow given the continued rapid user growth of short video platforms.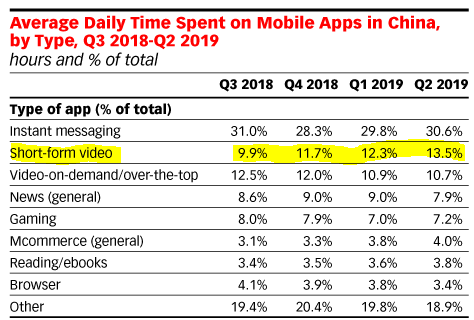 Now 7.2 out of 10 devices in China have some kind of short video app installed. The market as a whole grew 116% YoY (Year-on-Year) in 2019 to a total of $14.3 billion in revenues and is expected to grow a further 50% in 2020.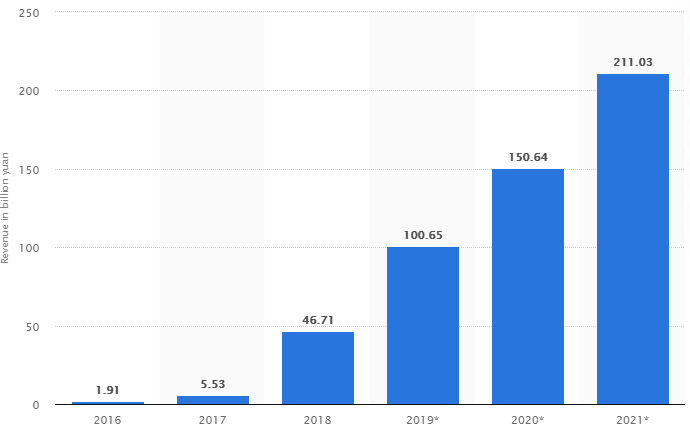 In 2018, 85% of millennials in the U.S. had purchased a product after having seen a video on social media about it. The move for american social media companies to integrate their own e-commerce solutions will more than likely result in the next big e-commerce boom. This will result in video apps becoming e-commerce apps and e-commerce apps becoming video apps.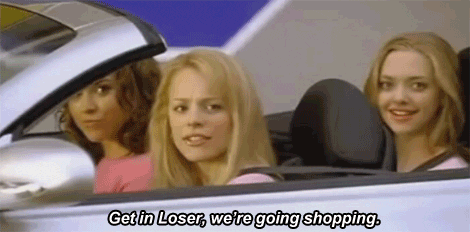 The Rise of the "Influencer"
An important part to understanding why text- and search based e-commerce will be elapsed by video commerce is understanding the importance of influencers and the decentralisation of entertainment and branding in the last 10 years.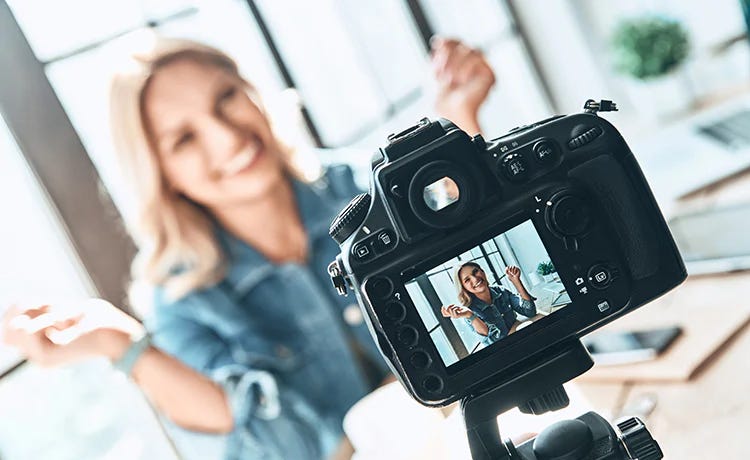 Before social media reached critical mass the majority of entertainment and commerce was controlled by companies, where a minority were in charge of what the majority could watch and buy. Social media and decentralised distribution through the internet allowed anyone to start producing content, building a brand and creating a fan base.
The word "influencer" is often thought of in a negative light, it's someone who "vlogs" or shows off their "glamorous" life, but in reality an influencer is merely someone with a following and who has the power to influence what their followers think and feel. It doesn't matter if they take pictures of their life on Instagram, makes comedy videos on YouTube or writes about business and technology in a newsletter. They are all influencers due to having a following.
Large companies have always used influencers to sell their products: Jordans, Yeezys, Chuck Taylors. The difference now is that YOU can create your own brand by creating the content you want to make. This also allows you to sell your product to your followers without a middleman.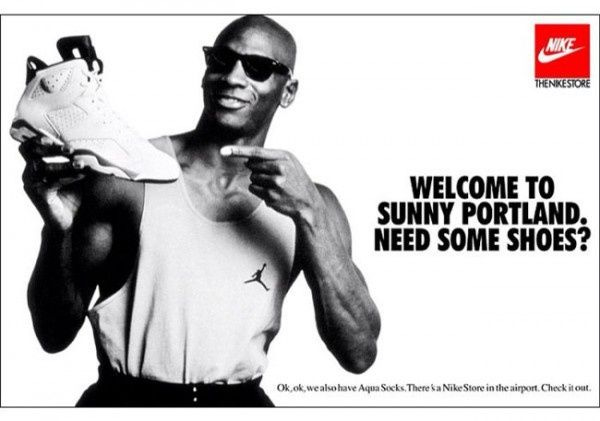 Now 92% of millenials and Gen Z consumers say that they trust influencers more than brands and 82% are likely to follow the recommendations of an influencer. While this might sound strange at first, it's not.
The technology YouTuber Marques Brownlee has been making videos on technology and gadgets for well over a decade (he is now 26 years old) and during this time he has amassed a following of over 11.6 million people and a large back log of gadget reviews. The reason for his large following is that the audience recognises that the quality of his reviews and content is high. Is it not more reasonable for his followers to value Brownlee's input on a product more than an anonymous tech journalist or the companies own advertisement given his large repertoire of previous reviews?
Additionally, it turns out that few users respond negatively to influencer's sponsored posts, but simultaneously 2/3 of millenials and Gen Z use ad blockers. They actively accept what influencers have to sell while blocking out generic ads.
These strong connections that influencers have with their own following (which they interact with daily) mean that both big and small influencers can build their own brands and sell their own products to their own followers, a practice which is growing at an explosive rate.
Taking advantage of their own channels to sell their products directly to their followers (a direct-to-consumer business model) and thus excluding the middleman in retail (and in media) result in influencer brands having 0 customer acquisition cost and 0 marginal cost on sold items. The marketing of a product is done solely through the influencers own content.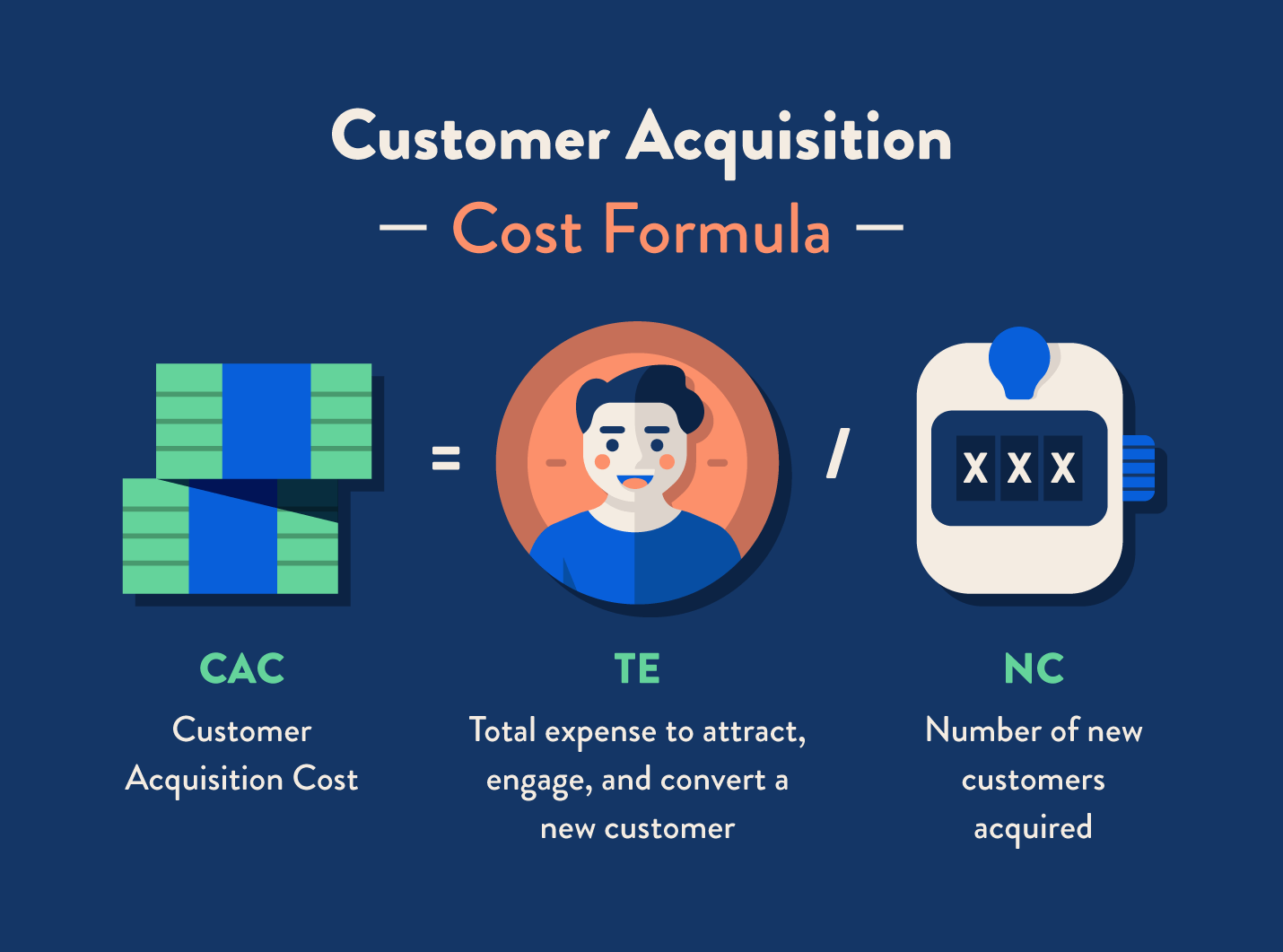 Compare this to the current largest direct-to-consumer companies like Warby Parker or Casper which have extremely high customer acquisition costs or to companies that need to use ad platforms like Google and Facebook to advertise, where each additional customer means additional costs.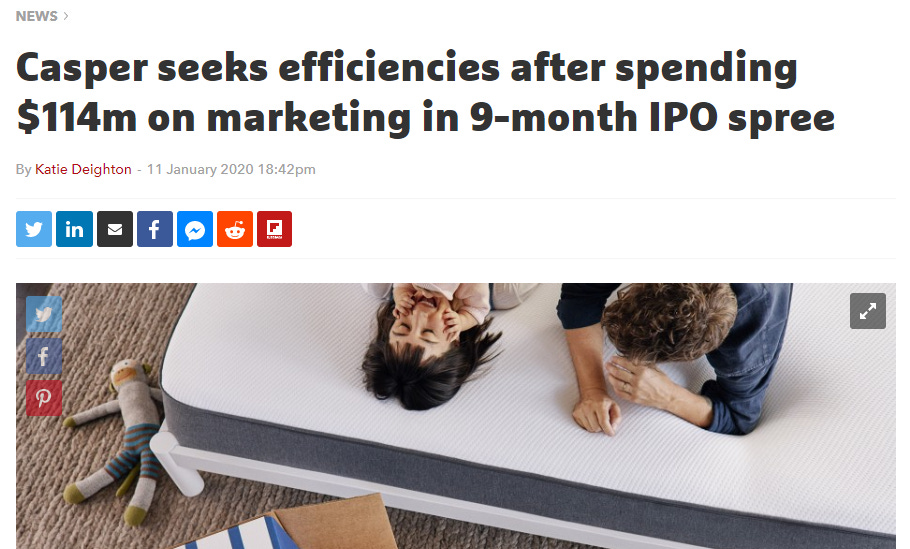 On top of this influencer brands have a built-in R&D system through their following. They can quickly get feedback on their product before release by asking their followers what they actually want. The community not only helps with making decisions but also build hype for a product launch, especially since most products are released in a limited quantity.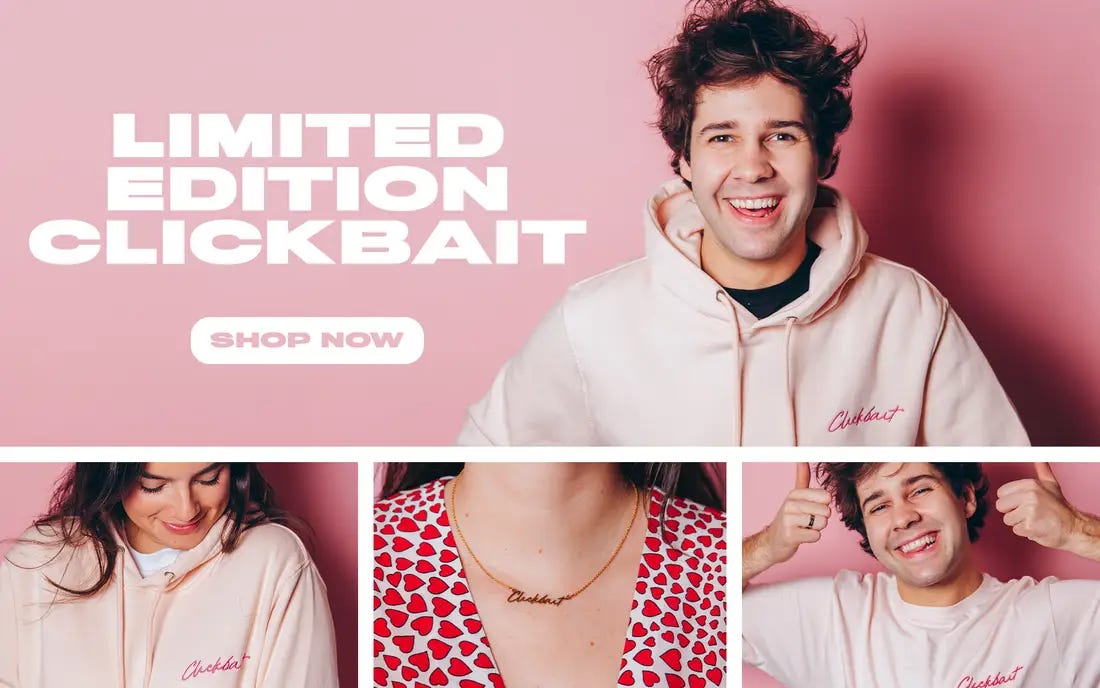 In east Asia, influencers are "larger than life" (in Asia they are called KOLs - Key Opinion Leaders), which least of all could be seen on Alibaba's Singles Day 2019 (China's equivalent of Black Friday) where 6 of the top 30 female apparel stores where influencer brands.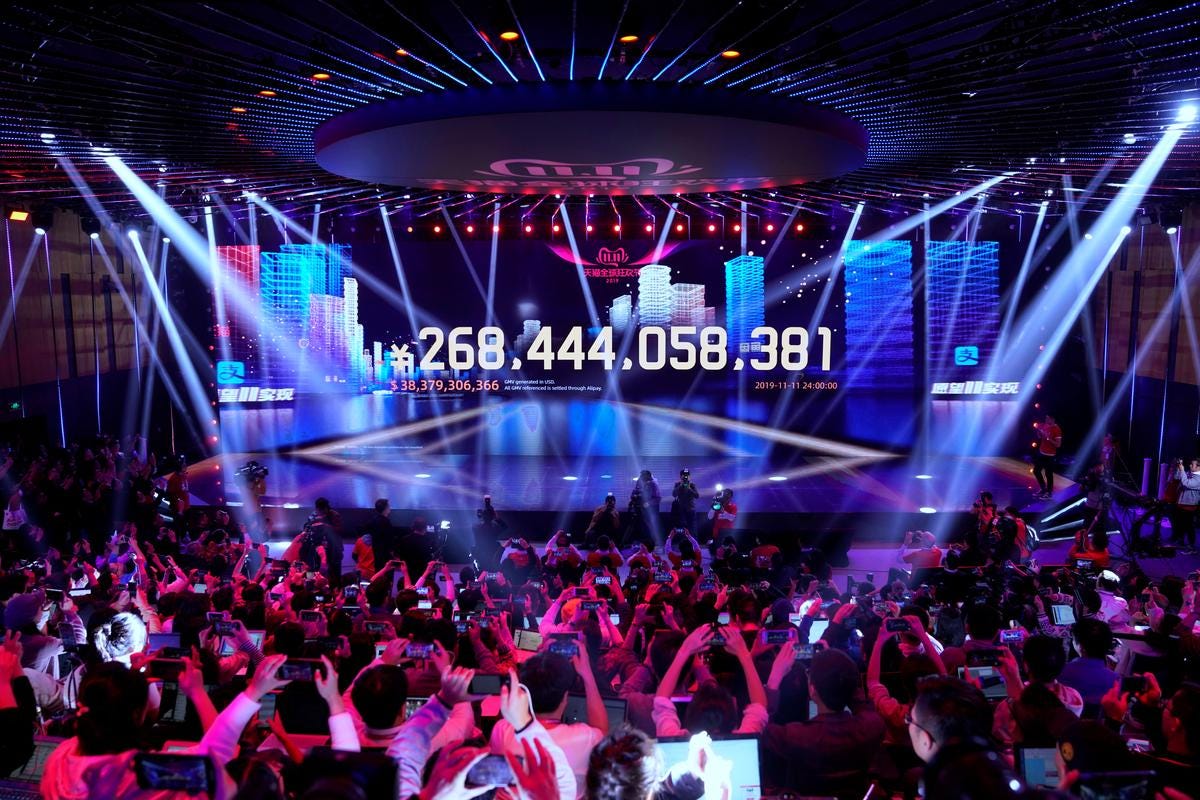 Influencers are so popular that there are a multitude of "influencer incubators" to find and create the next big thing. It's not unusual for 30-40 people to solely work for one influencer to get them to become the next big brand. But these brands are also seen as short lived and niche, with the average life expectancy of 3-4 years, and incubators launch several influencers per year while simultaneously working with dozens more.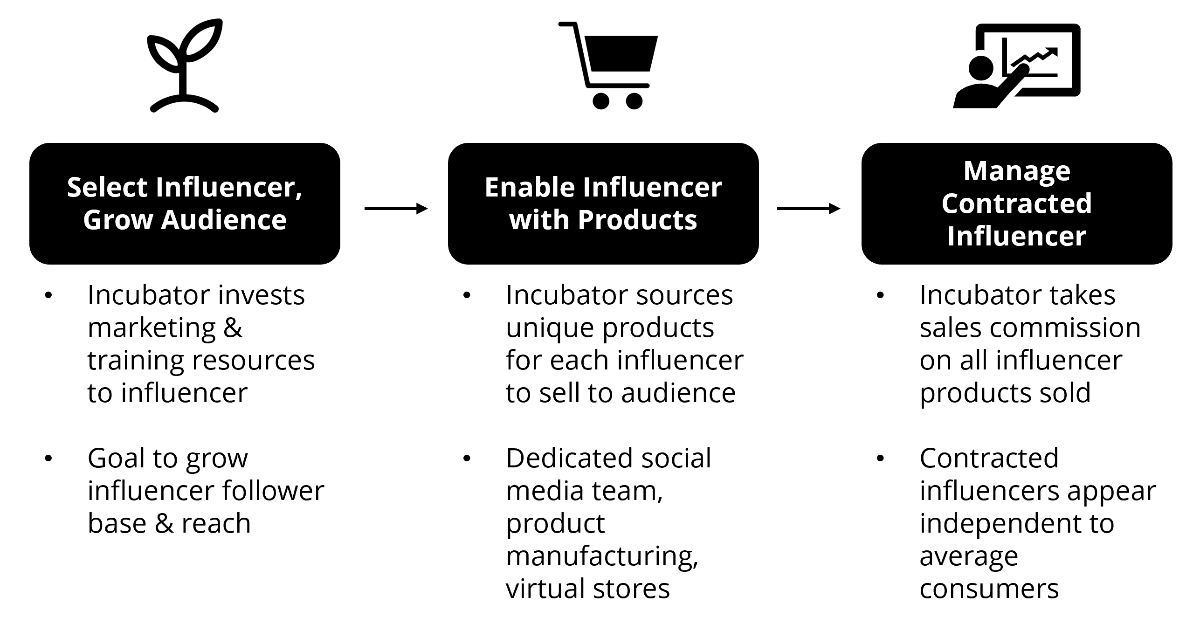 Live streaming
As shopping has become more interactive, an additional opportunity for brands and influencers has emerged: Live streaming.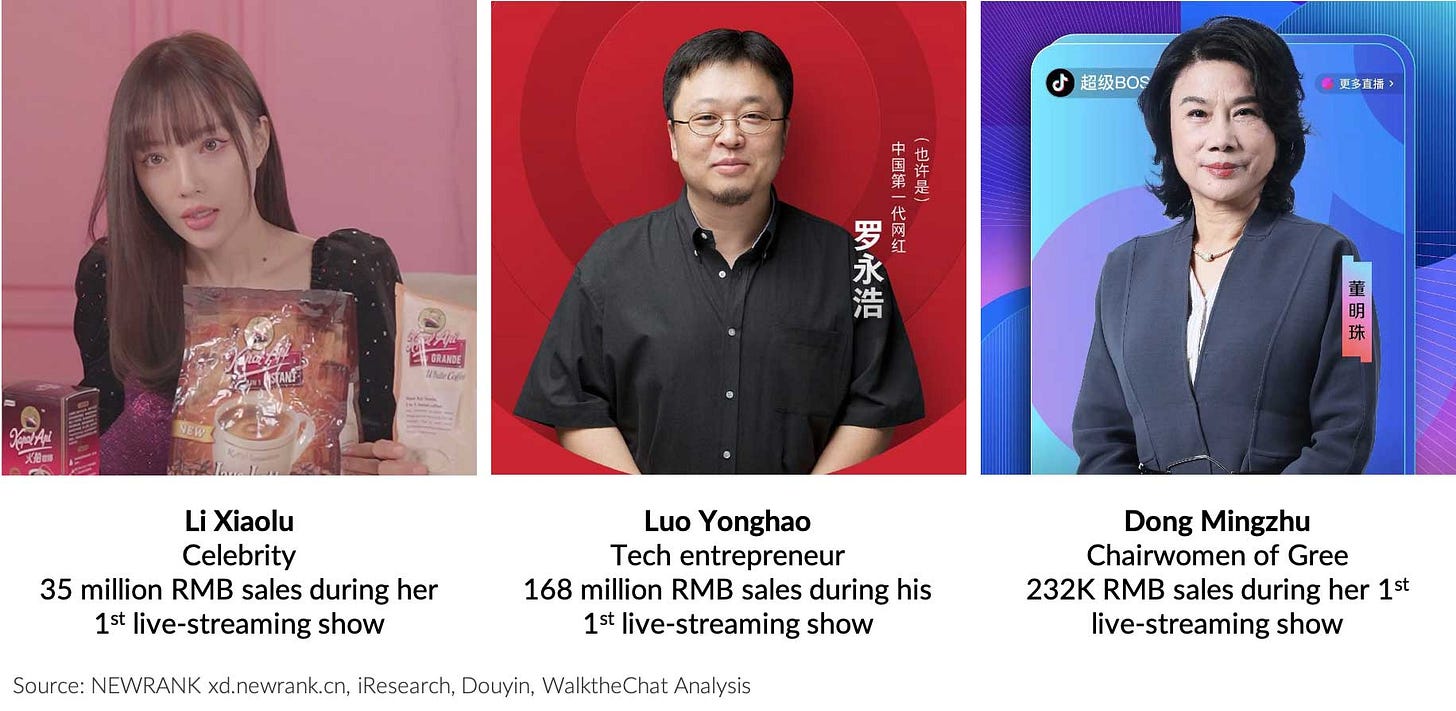 Live streams allow users to ask questions and receive answers about a product in real time. Users can chat with influencers and ask questions about sizes, get close up of fabrics, discuss accessories etc. This is something that for many greatly improves the shopping experience.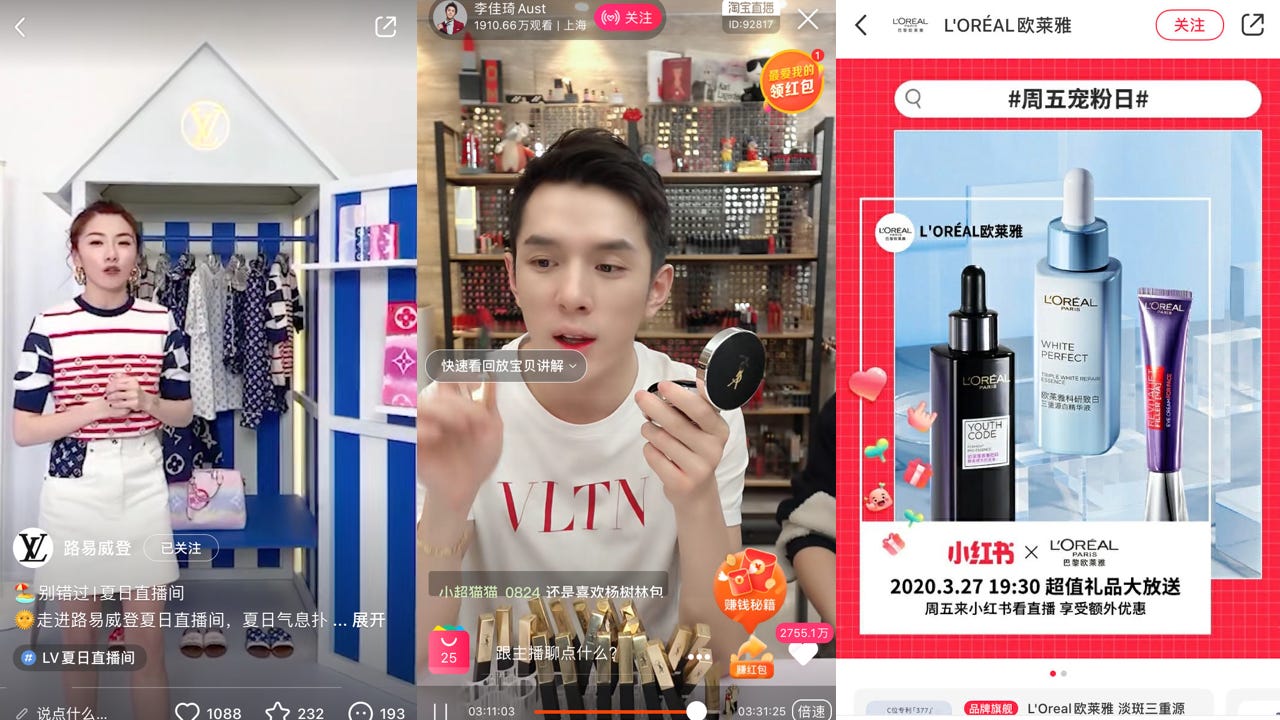 In China most live streams are by influencers promoting their own inventory or in collaboration with a brand for 20-30% commission. The live stream integrates the influencer with the audience and they are live for up to 8 hours a day!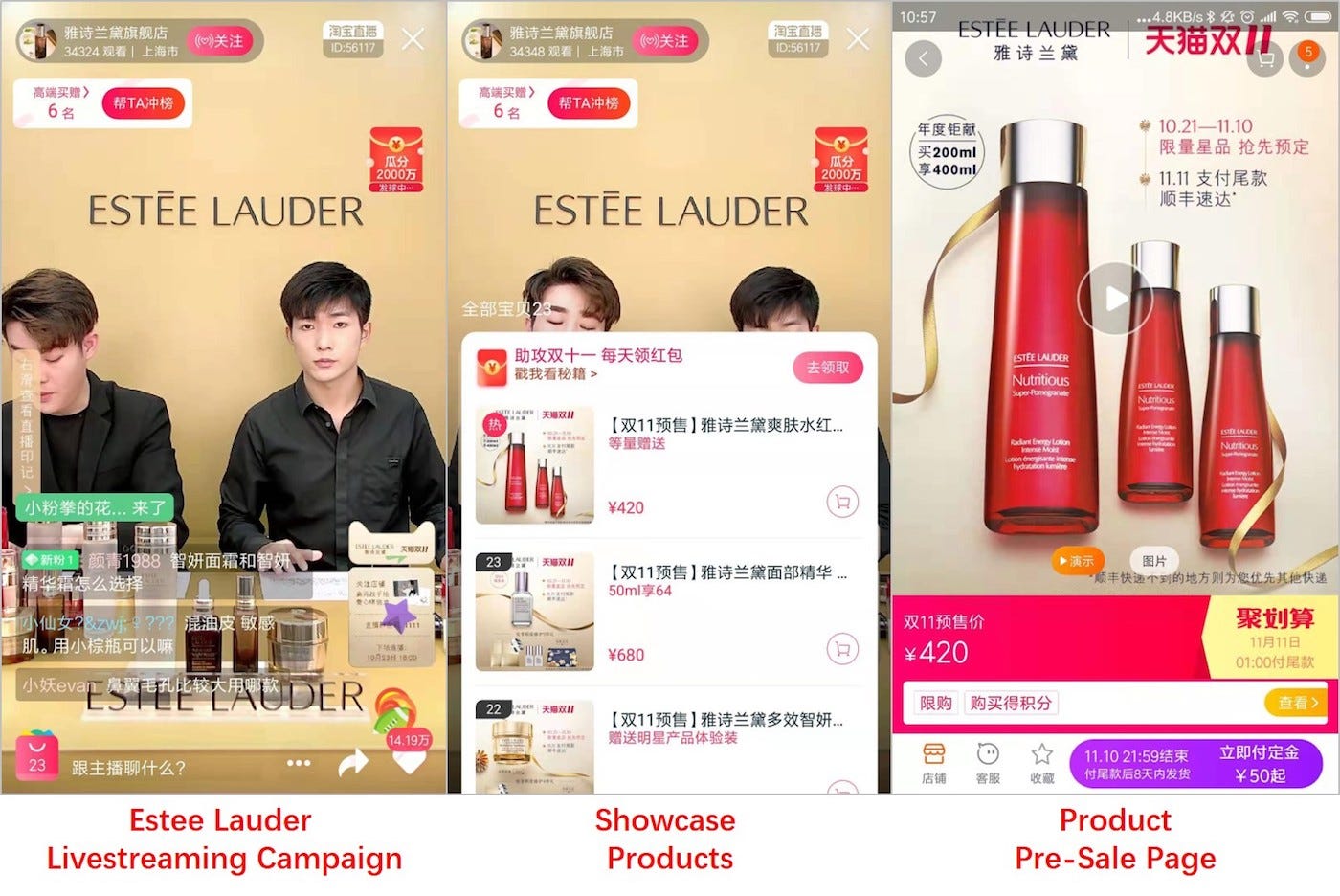 Small companies also use live streams to promote their products and to get closer with their customers. The "Fruit King" Shen Junshan made $150 thousand in 2018 by using Douyin to sell fruit from his orchard, quite a step up from his previous income.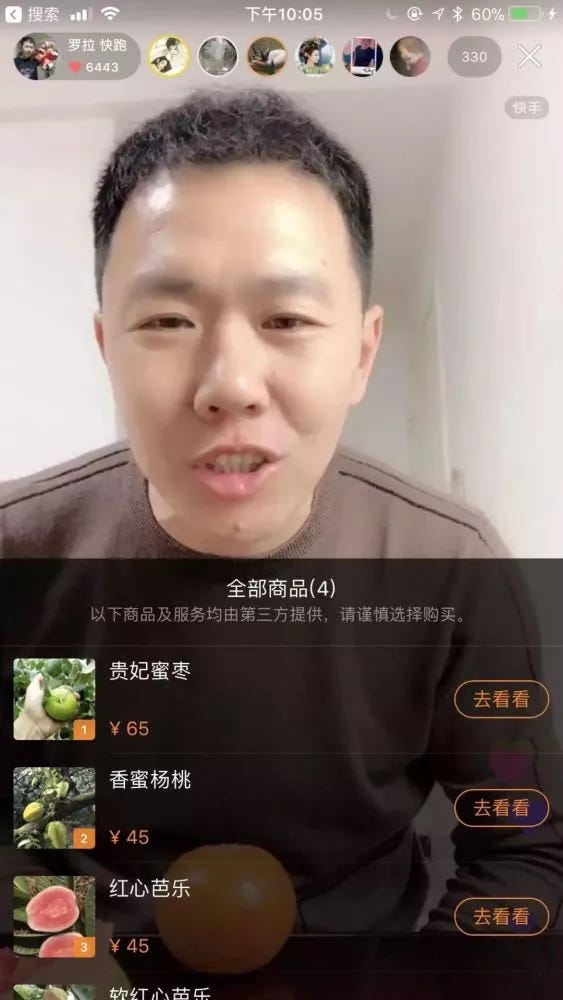 "I used to ride a bicycle and now I am driving a BMW. It is as simple as that" - Shen Junshan
For companies like Taobao, commerce as entertainment has always been part of their DNA. A clear sign of this is the growing usage of Taobao Live which peaks at 10 p.m. every night. In 2018 Taobao generated $15 billion in revenue from live streams, an increase of 400% YoY.
The CEO of Taobao observed that live streaming is not just a passing trend but that "in the future, it will be the mainstream e-commerce model". This means that the intersection between video, entertainment and e-commerce will be an increasingly important trend to watch.
---
Did you enjoy this newsletter? Please subscribe if you already haven't!
---
Original tweet from 14 July 2020: